Review of the urban fantasy series October Daye by Seanan McGuire. If you are interested in the idea of the fay hiding in our world, then you should check out the October Daye books.
The October Daye series
The October Daye series McGuire mixes the procedural drama and fay court politics worthy of any political epic fantasy novel. There is backstabbing and intrigue but also strong friendships and loyalty.
October Daye struggles to find her place as a changeling in the fay world with a hostile fairy queen. October tries to be useful to the fairy court by being a private detective for them in the mondan world. The fay hides away from mortals in their pocket realms, but travels in our world wearing illusions.
Series: October Daye
Author: Seanan McGuire
Genre: Urban fantasy
Themes: Identity, female friendship, loyalty, found family, political intrigue
My review of Rosemary and Rue by Seanan McGuire
I loved Rosemary and Rue the first time I read it, but it is even better on a reread. It is both sad and hopeful. It is all about loss, friendship and the meaning of being a hero.
There are so many strings running towards the next books that I did not see before. If you have not read it, do.
My review of In Sea-Salt Tears by Seanan McGuire
Sea-Salt tears indeed! I cried my eyes out while reading it. I reread it three years later and once again I weeped. In Sea-Salt Tears is so sad, so meloncy, romantic and beautifully written.
Story: 5.1
My review of Chimes at Midnight by Seanan McGuire
Loved, loved, loved this installment of the series. Chimes at Midnight is awesome! The thing is that the book is both running at a very high pace, extremely emotional and very funny at time. It is as funny as it is sad.
October Daye is my favourite urban fantasy series and Chimes at Midnight is one of the best so far.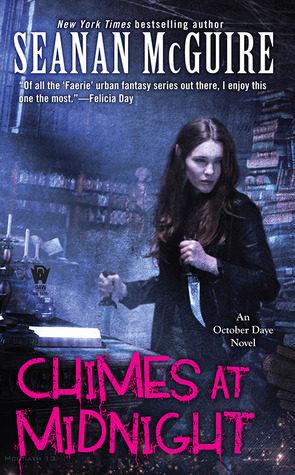 My review from 2014 of Chimes at Midnight by Seanan McGuire
Title: Chimes at Midnight
I don't know why I didn't write a review, when I read Chimes at Midnight the first time, because enjoyed it enough to go back and listen to all the earlier books in the series again.
October Daye is my favourite urban fantasy series and has been pretty much since the first book. I think it has a lot to do with the fact that it is centered around the fay, which I find fascinating. But that is of course far from the full explanation. Chimes at Midnight is one of the best so far. When I went back and reread all of the series I can see just how many threads that are woven through the series from the very first book, that only really turn outs to mean something in this latest book. Like Toby's addiction to coffee.
October Daye (Toby) becomes more or less human a number of times throughout the series. She is born as a half-breed, a changing but she can change her own blood becoming almost fully human or almost fully fay – though it is risky business to do. And as her humanity fluctuate s does her tolerance for coffee – which somehow makes for some very emotional scenes.
The characters and relationships
The series is so much about the characters and their relationships and I have to admit that one of my favourite characters is the Sea Witch. She is such a badass but also such a softy. And her constant banter with Toby is really funny. There is a lot of wonderful banter in general in these books. I am sorry this review seems to be general about the series, because I can't seem to recall the specifics of the book right now.
I also love the friendships that plays so central a role in the series. When the series starts Toby is very reluctant to have any friends at all but over the series she has let more and more people into her life.
Now in book 7 she has a whole band of friends who are willing to help her and have her back. But with friendship there also comes the potential for loose and it ups the stakes when one of those friends is in danger. It is wonderful to read an urban fantasy novel where the protagonist has female friends because that is quite rare, for some crazy reason. The topic of female friendship is an annoyingly under-discussed topic in f&sf.
I also really love Toby and Sylvester's relationship that is both a friendship and the relationship between a feudal lord and his knight, which of course complicate things but also makes room to work with the feeling of loyalty which is also a really under-represented feeling in modern fiction.
A number of the supporting cast are queer characters without that being their defining traits. They are treated as people just as everybody else in these books. No matter if people are stone-giants, a pooka or fully human, good or evil they are all treated as people with motivations and full personalities. None of the characters in the October Daye novels are ever just paper cutouts. Even the antagonists' flunkies tend have good reasons to act the way they do.
The plot and pacing
As always the plot is running in a very high gear once it gets going and so is Toby. She is in constant danger so there is never a dull moment. This time she is having a more direct confrontation with the queen, who has hated her for years now. The queen is an extremely dangerous woman in her own right. I don't know why but I always find politics in feudal fantasy extremely interesting – especially among the fay and the October Daye series does it extremely well.
The thing is that Chimes at Midnight is both running at a very high pace, extremely emotional and very funny at time. It is as funny as it is sad. The October Daye novels always hit all my emotional keys, which is why I think they are among the best urban fantasy out there.
The stats: Chimes at Midnight
Published: 2013 by DAW
Length: 357 pages
Read: September 09 to 10, 2013
My review of Forbid the Sea by Seanan McGuire
A bittersweet short story in the October Day series about the King of Cats Tybalt back in the olden days of London. I very much enjoyed the story and once again Seanan McGuire put a lump in my throat.
Story 7.1
My review from 2013 of Forbid the Sea by Seanan McGuire
I adore the October Daye series. The novel are amazing and the short stories are heart wrenching (and Hugo nominated). This story is no different.
Forbid the Sea is melancholy – bittersweetly sad. Our King of Cats is alone in the world, find company and is forced to give it up without a fight. Knowing Tybalt it is hard to imagine how the loose could be cutting.
Tybalt is definitely one of my favourite characters in the Day universe. He is loyal, sharp and fierce as well as terrible sweet – in other words very much a cat. McGuire describe him in a way that never lets forget that he is more cat than man. Forbid the Sea flesh out Tybalt more and let us understand him better. I just re-read all of the October Daye series (I might do a post on that) and this story added yet another piece to the complex puzzle that is that series.
The story – spoilers
Tybalt is also bi-sexual, though I do not think he think of himself as such, gender seems to matter less for the fay, though it sometimes matters very much. In this story he has a sexual relationship with man, Dylan.
And it is very different from the hetrosexual relationship that we have seen him in in the series. This is very much a male-male relationship – they have sex on the first night they are together, something that is hard to imagine the sly cat doing with a female loveinterst. Tybalt is loyal and loving to his lover and he want to show him the wonders of his court as well as the wonders of his city. They enjoy months together before Dylan's past catches up with him. The tone of the story foreboding that this will not last, that it will end in tears, which of course makes the happy moments all the more bittersweet.
This is also another story about the selkies and gives us more little drips and drops of information about their lore. Seanan McGuire does not do world building in big strokes but putting in a titbit here and a titbit there followed up by a bit of exposition where the narrator feels that it is needed.
I very much enjoyed the story and once again Seanan McGuire put a big lump in my throat. It was not as amazing as In Sea-Salt Tears, but that is setting the bar very high.
My review of The Winter Long by Seanan McGuire
The characters in The Winter Long are amazing and the moments between them is what makes this series. There is also action, sassy banter, romance and quiet moments. The Winter Long ties up a lot of the plot threads from the first seven books and turns many things on their head.
Book 8
My review from 2014 of The Winter Long by Seanan McGuire
Opening sentence:
"The woods were dark, filled with strange shadows."
I preordered the ebook a few weeks back and I was very excited when The Winter Long showed up in my Kindle app the other day. However I had not read more than about a page, when I realised that something was wrong and I realised that normally I read this series as audiobooks. I was missing Mary Robinette Kowal's narration enough to go buy more credits on audible.com and grab the audiobook version. The book was just wrong without the voices. Especially Tybalt just isn't the same without it. So after getting the audiobook, this was a great read!
I am very happy that I reread the series last year when Chimes at Midnight came out because so many old plot points were brought back up. The Winter Long was very much a story that revisited old assumptions about how Toby's reality looked. Toby has to deal with the fact that a great deal of what she thought she knew about her own history was just not right. She has to look at her past and re-examine it and deal with the wrong assumptions.
She not only has to question her past, she also has to take a long hard look at both her allies and her enemies. Some of those she thought were her friends and allies isn't. This is something I think will have more fallouts in the next book.
Once again the characters are amazing and the moments between them is what makes this series. There is also action, sassy banter, romance and quiet moments. It is another solid installment in the series. I think a reread of the first book will make me enjoy this one even more.
A lot of ends were tied up with this book. It is clear that McGuire had planned the series to be about this long, but I just heard that she plan to write a bunch more in this series (hurra!). I for one is looking forward to more. I am not prepared to leave Toby and the crew behind and there are definitely more stories to be told in the universe.
As a side note I am so happy for Toby and Tybalt – they seem to have such a good relationship – which is surprisingly rare in fiction.
This review was originally posted: September 20, 2013; January 9, 2014; September 7, 2014; August 10, 2016. Updated and edited July 1, 2023