Review of the Velveteen vs. series by Seanan McGuire. A funny and clever look at the superhero genre and how it treach both child and female heros. If you enjoyed The Boys, but wish it was a bit lighter in tone, this is the perfect read.
Review of the Velveteen vs. series
My review of Velveteen vs. The Junior Super Patriots by Seanan McGuire
Fun, fun, fun!
Superhero child stars growing up with poor support in a Disney-esk corporate run superhero unit. The novella examines the role of gender in superhero comics. Wonderful mix of funny and dark.
My review from 2013 of Velveteen vs. The Junior Super Patriots by Seanan McGuire
Title: Velveteen vs. The Junior Super Patriots
Series: Velveteen vs.
Author: Seanan McGuire
Genre: Superhero fiction, humor
One word review: Fun
But if I have to write a bit more, since one word reviews aren't very interesting now are they. The book is not only very entertaining and funny, it is also very intelligent and thought-provoking.
There is a highly intelligent introduction by Jim C. Hines and an afterword by Carrie Vaughn both very much worth reading. I am sure I will be restating some of their points. I will try to say something they have not said as well.
Corporate superheros
What I found really compelling about this book is the humor mixed with the darkness of human nature. The corporation that is the Super Patriots does a lot to dehumanize their employes to the point where the children are only called by their superhero handles and are treated like corporate assets rather than people. Their handlers never have names, they are just ma'am and sir.
There is a heartbreaking scene where young Velveteen and Sparkle Bright are shown their new "homes" which is totally unpersonalised white rooms with a cot and a desk in. And are told that they can decorate their rooms once they start earning money, so they better get some merchandising deals soon. They are twelve years old at this point. As Velma puts it:
"anything people called "living quarters" was not actually the same as 'bedroom'"
The corporation of course has to dehumanize them if they are to accept the casualties numbers that they get. Half of the junior superheroes dies or a critically injured in the line of "duty". If they did not dehumanize them they would have to change their practices and policies and I am sure they wouldn't want that.
I love how Velma throughout the book gets an understanding for why some of the supervillains might be opposing the Super Patriots, that they might just want to be left alone, that they might not really be evil. Perhaps it is all Marketing's fault?
The superhero genre & tropes
All of this extra layering of the book is packages inside a really funny and entertaining adventure story about a woman who chooses to be a hero. The story really plays with the tropes of the superhero genre.
"If anyone had ever wondered why she wasn't as committed to the cause of justice as some of her teammates, they should really have taken a look at her crappy origin story."
The origin story
So let's just take a look at her crappy origin story. Her parents are basically looser drunks who sold her to the Super Patriots when she was too much trouble and they could get a good price for her contract. This really isn't a happy book so it is a huge accomplishment just how funny and entertaining it manages to be.
"The damnable, familiar theme music, with its bouncy major key and its easy-to-sing lyrics that borrowed into the brain like tapeworms."
I don't read any other author than McGuire who just throws out a tapeworm metaphor because that is the one that makes most sense. Have I said just how icky and creepy I find tapeworms?
"Most kids superheroes make kid stars look well-adjusted, sane and absolutely well-socialized."
Gender and superheros
I love how uncomfortable Velveteen looks in her costume on the cover, she is never quite comfortable with the costumes that the Super Patriots make the female superheros wear. Even as a teenager she felt overly exposed in her costume, that isn't half as nice as the one the child version of her wears.
The overall review
Ok that probably makes it sound more bleak and unpleasant than it really is it really is a very funny book and it really is entertaining – I am of course just going all crit-lit on it and pull out all the deep and meaningful bits. As I said my original review was just "fun". So please don't let my depressingly grown up thoughts talk you about of reading the book, they visit Halloween land for crying out loud. And there is a corn maze and they get chased by scarecrow.
The short review: Fun, fun, fun!
The stats
Published: 2012 by ISFiC Press
Length: 180 pages – novella
Read: November 28 to December 02, 2013
The protagonist: Velma Martinez, female, superhuman, straight, able-bodied, teenager.
My review of Velveteen vs. The Multiverse by Seanan McGuire
A hopeful and funny critical look at superhero comics. Highly entertaining especially if you are a superhero comics fan. While the first one is rather bleak the second novella is more hopeful and centers friendship. I laughed and I sniffled just a little bit as well. Recommend it!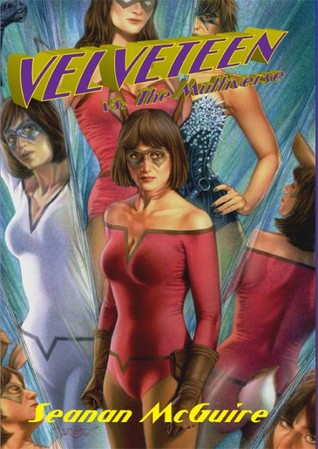 My review from 2014 of Velveteen vs. The Multiverse by Seanan McGuire
Title: Velveteen vs. The Multiverse
Series: Velveteen vs. book 2
Author: Seanan McGuire
Genre: Superhero fiction, humor
Opening sentence:
"It was a beautiful September afternoon in the sleepy little town Isley, California (population 840, on a good day when no one had decided to drive up to Sacramento for some big city thrills)."
Critic of superhero comics
Like with the first book and Cookie Cutter Superhero by Tansy Rayner Roberts this book is very much metafictional and it has so much love for the superhero genre. Both Roberts and McGuire understand that loving something allows you to look at something critical without that diminishing your love for it. The best satire always comes from a place of passion – because it requires a great amount of passion to acquire the level of knowledge it requires to really highlight the most funny and problematic areas of what you love. The Velveteen stories does just that.
Review
In my first review I did a one word review, I don't think I can make it quite as short, but I can do a three words review: Freaking Loved It
Unlike Velveteen vs. The Junior Super Patriots this wasn't as bleak, because Velveteen has gotten out of the clutches of Marketing. That is not to say that the story does not have sad and dark moments, but it is a more hopeful book. A bit like a good scone with bits of dark bitter chocolate inside – making it all the more tasty.
I have however read a lot more superhero comics since I read the first book and a lot of the humor just get funnier for that. To me it was also a happier book with more strait funny moments. A lot of the humor is very meta and that is lovely.
The story and characters
Velvetine has to make some hard choices in this book and has to push though some nasty bits. She is however (unlike in the first book) always surrounded by friends.
The secondary cast is awesome, there is a whole range of interesting and amazing characters!
Princess who is everyone's idea of what a fairytale princess should be.
The frost girl (sorry can't remember her name) who is living in the North Pole and is playing a major role in the story as a force for good, even though she do not see herself as one of the good guys – she pretty much save everyone.
Victory Anna who is a steampunk lesbian woman from another dimension with a huge gun – who is wonderful and awesome and so frank it hurt sometimes – but in a very polite way.
Sparkle Bright, Velveteen's former teammate and best friend/enemy – who turns out to be really lovely as well.
And then there of course is Tag, Velveteen's boyfriend who is also rather cool and very supporting.
The cast really makes the story. It is very much a story about friendship and loyalty. Not the fake loyalty that Marketing demands, but the loyalty of true friends.
I very much enjoyed the book. I laughed and I sniffled just a little bit as well. Recommend it!
The stats
Published: 2013 by ISFiC Press
Length: 312 pages, novel
Read: August 18 to 23, 2014
This review was originally posted: December 4, 2013 & August 26, 2014. Updated and edited June 26, 2023