Review of Blood of the Earth by Faith Hunter, the first book in the Soulwood series. A dark urban fantasy series centered around a christian cult, dryads and vampires. Nell is trying to escape her life in the christian cult when a group of Homeland Security shifters turn up on her doorstep investigating a local vampire lord. You might call this rural fantasy.
My review of Blood of the Earth by Faith Hunter
Blood of the Earth is an urban fantasy series centered around Nell who is living on the edge of a christian cult. This is a darker series then most urban fantasy dealing a lot more with real world trauma than most. There is much less action and more internal growth and thoughts on power dynamics. Nell feels like a more rounded character than what we often find in the genre.
Soulwood is a spinoff series to the Yellowrock series, but can be read on it's own.
Content warning: Non graphic mentions of rape, child abuse, violence against women, and sexual child abuse.
My review from 2017 of Blood of the Earth by Faith Hunter
Title: Blood of the Earth
Author: Faith Hunter
Series: Soulwood #1
Genre: Urban fantasy
Blood of the Earth is the first book in the Soulwood which is a spin of series and I am sure it makes most sense as such. However the books can be read without having read the Yellowrock series.
The setup
Nell grew up in a polygamous christian cult off the grid. She was married as a teenager as a secondary wife to an elderly man, who has since died and left her his land. Nell has earth magic of some sort. Nell's background makes her a very different kind of character to so many urban fantasy women, as she is very far from the modern women.
Agent Rick LaFleur (from the Jane Yellowrock series) from PsyLED, a Homeland Security agency policing paranormals shows up and drags her into an investigation of the local vampire population. This disrupt Nell's quiet life and kicks off the series.
Blood of the Earth
Blood of the Earth is a book with a lot of character growth and when a government agency ask for her help she has to take on new roles. I might have said it before but I really enjoy the agency deals with the supernatural trope – and from book two this series has that.
It is quite a heavy and dark book at times with a lot of substance. The themes are about family, abuse of power, the power of tradition. The theme of the christian cult is explored in the first two books. In the first one it is pretty much all negative, but in the second one it gets more nuanced. There are also themes of identity and about growing into yourself, as Nell is a young protagonist. She is finding herself in these books. The series also have themes of chosen and found family as Nell gets new friends and allies.
Jane Yellowrock vs. The Soulwood series
Where Hunter's Yellowrock series is pure action, Blood of the Earth is more psychological. It is however still an urban fantasy book and there are plenty of magic and magical creatures too keep me interest. This is a book with Earth and Forest magic as it's focus, there are however vampires and were creatures as well.
Where the Yellowrock books are very urban and cosmopolitan, the Soulwood books are rural and are set in a conservative environment. This does affect the mood of the book a lot and it is great to see the world building expanded.
There is no romance in the first two books of Soulwood, but there is romance in the later books.
The Stats: Blood of the Earth
Published: 2016 by Roc
Read: August 11th to 14th, 2016
The author: female, white, USA
The protagonist: Nell, white, female, young, uneducated, supernatural
My review of Flame in the Dark by Faith Hunter
I really enjoyed Flame in the Dark. The Soulwood series really just works for me.
This volume has a slowly blooming romance between Nell and someone else and it is just lovely. There is a hint of a love triangle, but it never gets annoying and is resolved fairly fast, but is still given enough weight not to feel like a waste of time.
The home scenes are just so cozy and I love how different Nell is from Jane Yellowrock – they are friends but they are almost as different as protagonists can be. I love them both dearly and want more of both the series.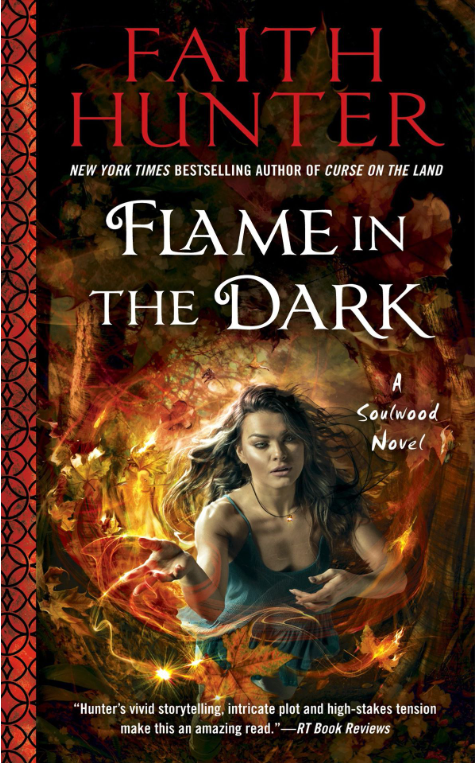 This review was originally posted: December 12, 2017. Updated and edited June 28, 2023